Agencies are finding it harder and harder to create genuine differentiation and cut through. They struggle with their own marketing and new business, creating a need to utilise external specialists for growth.
This is where Pimento Fuse comes in. We bring the strategic solution and couple it with the tools, techniques and specialist resources that we know can accelerate that growth. We do this by bringing in the right resource from across Pimento to become your team.
Pimento Fuse is Pimento for agencies.
Our Approach
We build our bespoke solution based on our five-step process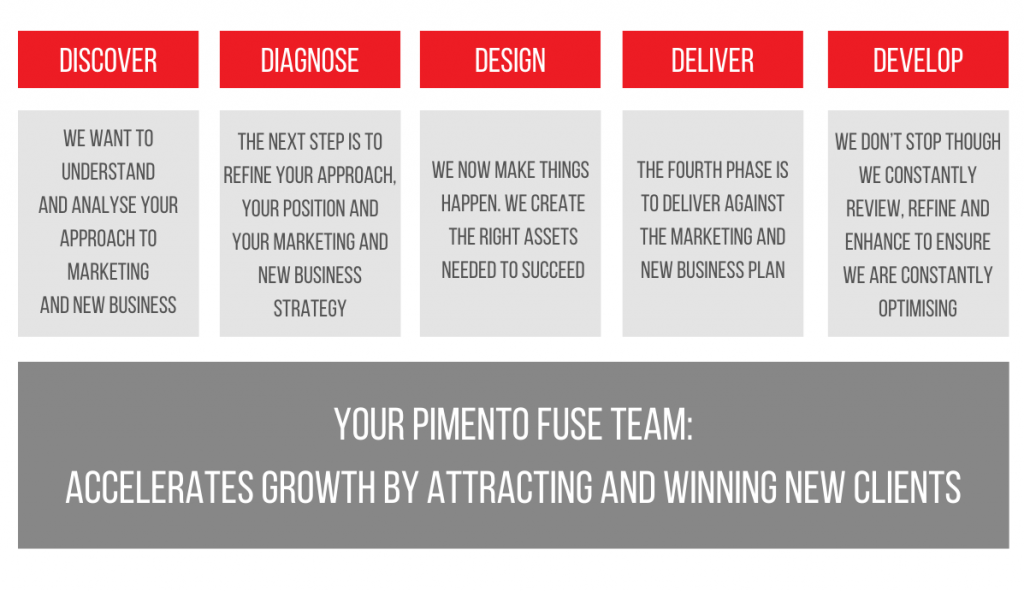 What Makes Us Different
Pimento Fuse brings together best in class marketing and new business support (from strategy, proposition development, design, content, tech, data, PR, Social, SEO/PPC and so much more) to accelerate your growth.
As with our brand clients each team is led by a senior Director, in this case a professional New Business Director, and is backed by the New Business Consultants that sit within the Pimento Network.
Get in touch to see what Pimento Fuse can do for you.
For a free assessment, drop me a line at patrick.woods@pimento.co.uk
or complete the form below